With the recent increase in market activity and demand from buyers, the market for Fix and Flip Denver homes has changed drastically. A year ago, these distressed properties in Denver were easy to find. However, the market for such properties is now incredibly competitive and if you are considering buying these homes, you need to have a solid plan and an experienced team behind you.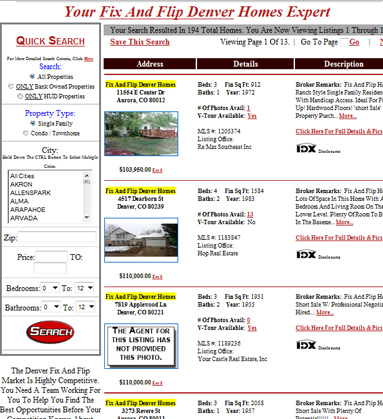 Many investors have been impacted by the dramatic reduction in Denver foreclosures over the past 9+ months. These types of properties have been the mainstay of fix and flip Denver investors, and with this supply drying up, the demand for potential fix ups has far outstripped supply.
However, we are still successfully helping many of our investors find properties that meet their criteria. Man of our agents list these homes, and we make them available to our team members before they are offered to the general public. So, if you are a potential investor, make sure we know about your needs. Call us today at 303-726-1874 and talk to us about what you are looking for so we can notify you when our team has a new listing.
In addition, make sure you are set up on our daily email alerts for fix and flip Denver homes. You need to know about these homes as soon as they hit the market and our program will send them to you first thing every morning.
There are still great opportunities available – we can help you succeed!