Attention Investors!
Westford Townhomes, Lakewood, CO are located just south of 6th ave and East of Kipling.
This is a great complex with townhomes usually selling in the low to mid $200's. That's why this Lakewood Townhome listed at $148,500 is such a great deal for either a homeowner or an investor!
With 2 beds and 2 baths, this townhome has nearly 1,300 finished square feet. Whether you've been considering a Lakewood HUD home or not, you should put this home on your list to check out. Use the link below or give us a call at 303-726-1874 to get more information.
9123 w cedar
lakewood, CO 80226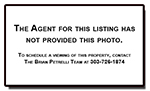 $148,500.00